When you think of Cambridge one of the first things that springs to mind has to be bikes! Cambridge has the highest level of cycling in the country with one in three trips in the town being made by bike. The dry weather and flat landscapes making it ideal. We have always enjoyed accessing the city and surrounding villages on two wheels but must admit to finding the slight hill on the way back increasingly challenging! So while we were keen for guests to enjoy exploring like a local, we didn't want you put-off forever halfway up Castle Hill!
The obvious answer was to offer electric bikes to our guests, so that you can enjoy a comfortable ride using as much (or little) leg power as you choose.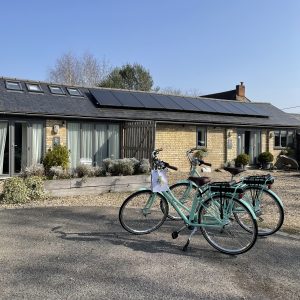 After trialling a few models, we are delighted with our pair of Pendleton E Somerby bikes. They offer a lovely upright riding style, comfy saddle and intuitive controls. The 'assist' from the motor has 3 levels and offers a consistent and reassuring push. When I first tried them it took me right back to when my dad would put his hand on my back and help me up the hills when I was flagging!
We have a bit of a habit of naming all our vehicles and machines at Crafts Hill Barn, so this handsome pair had to be christened too. They are wonderfully 'proper' and determined, and when you cycle into Cambridge from here you pass by the beautiful Girton College, so I thought we could honour some alumni (and hope that it wouldn't offend anyone!)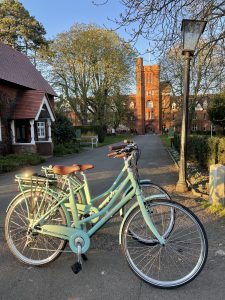 An obvious candidate is Brenda Hale, Baroness Hale of Richmond. The first woman to be appointed to the Supreme Court, famous for her brooches, was at Girton in the sixties. She finished top of her class as one of only 6 female undergraduates studying law and would have cycled up and down Huntingdon Road many times as it is said she liked a party!
Dorothy Hodgkin was also a student at Girton (reading Chemistry in the 1930s) and is the only female British scientist to be awarded a Nobel prize (so far!) recognising her work with X-ray Crystallography.
Therefore our very splendid and highly intelligent cycles will be affectionately known as Brenda and Dorothy in tribute to these pioneering women who excelled in their field.
We will of course let men ride them too. We have one 19" frame and one 17", so the saddles can be adjusted to a comfortable height for everybody. I am busy compiling suggested rides both into Cambridge and around local villages. We have helmets and locks to keep you and the bikes safe, so do get in touch to reserve them for a day during your stay, it's a fabulous way to see our lovely city and surroundings.