Cambridge boasts stunning architecture, wonderful museums and galleries, great shopping and places to eat. This little walking tour takes in some of the best bits but you really have to get in a punt to see the special parts, so do make time for that if possible.
Like many older cities, parking can be pricey and traffic difficult to negotiate. The Park and Ride from Madingley Rd is a good option but the buses back stop at about 8:30pm. I think a better option is to drive down Huntingdon road and park at Castle Hill car park (or on street parking on Pound Hill), walk down the hill and take a stroll up onto Castle Mound to see the view of the city.
Continuing down the hill I might pop into Kettles Yard gallery to see an exhibition or have a tour of the beautiful house. The café is a lovely spot for a coffee too!
Or for a flavour of Cambridge's past a visit to The Museum of Cambridge would be good start.
Passing over Magdalen Bridge (the original 'Cam – bridge') I would clock the punting tours for a sit down later perhaps. If in need of refreshment a stop in Café Foy or Bridges would hit the spot.
At the end of Bridge street, I might call into the Round church (dating back to 1130) before continuing to the right along St Johns Street, past St Johns College, Trinity and Gonville and Caius. At the corner I'd admire the view of Senate House on the right and Kings College ahead. The University Church (Great St Mary's) to the left has a tower you can climb for an even better view!
After a potter around the market I'd head to Bene't Street where there are lots of tasty lunch options (like Smokeworks, Bread and Meat or Steak and Honour), followed by a delicious ice cream from Aromi or Jack's Gelato. If liquid refreshment is more your thing, The Eagle Pub on this street is where the structure of DNA was discovered in 1953. On the corner you'll see the rather unusual Corpus clock on Corpus Christi College.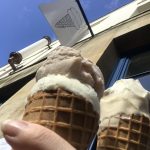 For some culture I might head to Fitzwilliam museum, Museum of Zoology, Sedgwick Museum of Earth Sciences or the Cambridge Museum of Archaeology and Anthropology. The Polar Museum is also very cool but for shopping I'd go to Grand Arcade!
On my way past I'd grab a world-famous Chelsea bun from Fitzbillies (Trumpington Street), they've been made here since 1921.
Now for that long earned sit down…I'd head to the punting stations at Mill lane or back up to Quayside and either self-hire (fun but hard work!) or a chauffeured punt. Alternatively, I'd continue south and take in the Botanic Gardens (though maybe that's best saved for another day!) or walk back along The Backs to admire King College chapel.
If I was passing by at 5pm, I might join the queue for Evensong (Mon-Sat) in the chapel (the best way to see this stunning building (for free!).
If it was a pleasant evening a sundowner on the rooftop bar at Varsity Hotel (Thompsons Lane) would be the perfect way to end the day, followed by an evening meal at The Punter, The Ivy Brasserie, Cambridge Chop House or The Pint Shop to name a few. Otherwise I'd pop into Cambridge Wine Merchants (Bridge Street) and get a bottle of something nice to have back at Crafts Hill Barn!
Hope that gives you a taster of the delights of Cambridge, do ask if you need any information or advice on places to go!