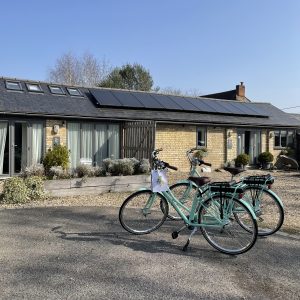 We now have 2 beautiful Ebikes for guests to hire during their stay with us. They have a range of about 30 miles and are extremely comfortable and easy to ride, so even a novice cyclist should manage.
This is something we have wanted to be able to offer you for some time, but getting the admin sorted has not been easy! One of the stipulations of the insurance is that guests sign a hire agreement and that we take a deposit of £100 for each bike. We will send the agreement through to you and incur all card charges ourselves. The deposit will be immediately refunded to you on safe return of the bikes. We have also got recommended excursions and safe places for you to lock up in town, so we can be sure the bikes will be safe.
The hire period will be from 10am-6pm (or before sunset in the winter months) and for the two bikes, along with all the accessories, route maps and a full charge, it is £60 a day. You can add them as an extra at the time of booking or get in touch to add to your booking. We will then confirm if they are available on your date of choice.
On the morning, we will adjust the bikes for you and give brief instructions before you sign the agreement and pay the deposit by card. Then you can take to the open road!
Read more in our blog here – Nothing compares to the simple pleasure of a bike ride.