We are delighted to be working with the wonderful Tiny House Retreats to offer guests a range of therapeutic spa treatments during their stay with us. Check out their website for details of the range on offer and book a lovely treat for yourself or a couples massage to totally unwind and recharge. When booking through their website, just put the space you are saying in (e.g. Cowshed) in the special request box and they will arrive 15 minutes before your booking to set up a tranquil spa environment for you.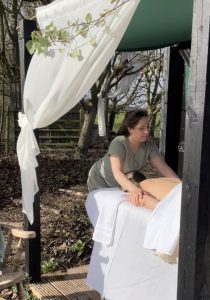 Treatments available
wildflower wagon
The cosiest of our accommodation suites, the Wildflower Wagon's snug interior allows for Indian Head Massage and pedicure/manicure. If the weather is lovely, the covered front deck is the perfect place for an alfresco massage or facial on a heated massage bed, wrapped in warm blankets and heated oils whilst taking in the soothing sounds of nature. Nail treatments are also available just outside your front door, if the weather is compliant; a pedicure whilst reclining in the rocking chair or a manicure at the table on your deck complete with a hot cup of tea.
Guaranteed Treatments available:
Indian Head Massage
Manicure
Pedicure
Upgraded Treatments available outdoors (weather permitting):
Swedish Massage
Deep Tissue Massage
Aromatherapy Massage
Manicure
Pedicure
Dragonfly Cabin
The Dragonfly Cabin's neat and modern studio along with a private and spacious outdoor deck allows you the choice of any of our body, face or nail treatments either inside or just outside your door accompanied by the soundtrack of trickling water from the natural swimming pond. You might choose to have a rejuvenating facial inside your cabin and then spend the evening in your robe outside by the roaring firepit or perhaps, while you are taking a dip in the pond your massage is set up on the deck for a post-swim massage.
Treatments available (indoors or outdoors):
Swedish Massage
Deep Tissue Massage
Aromatherapy Massage
Hot Stone Massage (indoor only)
Indian Head Massage
Facial
Manicure
Pedicure
the pigsty
The Pigsty is a spacious barn conversion with a separate bedroom which, even during the day, can be converted into a dark, warm and relaxing space for any of our massage or facial treatments and allows continued use of the living space without interrupting your treatment. The open space in the living area means you can also enjoy a manicure or pedicure from a comfy armchair with the smell of coffee brewing from the Nespresso machine.
Treatments available (indoors only):
Swedish Massage
Deep Tissue Massage
Aromatherapy Massage
Hot Stone Massage
Couples Massage
Indian Head Massage
Facial
Manicure
Pedicure
the cowshed
The spacious studio layout of the Cowshed offers a quiet indoor space for all of our body, face and nail treatments. A soak in the free standing bath followed by a hot stone massage before sinking into the sumptuous king size bed is one of the many options you have in this wonderful space.
Treatments available (indoors only):
Swedish Massage
Deep Tissue Massage
Aromatherapy Massage
Hot Stone Massage
Couples Massage
Indian Head Massage
Facial
Manicure
Pedicure