We have been welcoming guests to CHB for over 5 years and our environmental impact has always been at the forefront of our minds. There is always more to be done but we are proud of what we have implemented so far to reduce the impact of our business.
When our outbuildings were first converted, as well as lots of insulation we added a large array of solar panels and this has powered many a wash, iron and even EV car charges! We are total advocates for owning an electric car (we are on our second already) and all of our business miles are done in our trusty Nissan Leaf!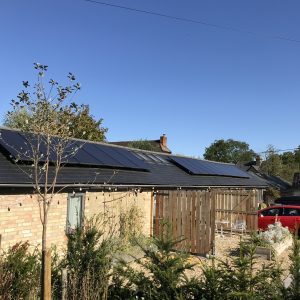 In furnishing the spaces we have upcycled and repurposed much of the furniture. Jo loves a project and having pieces in the rooms with some history just adds to their appeal. The chunky kitchen table in The Pigsty was the first piece of furniture we bought together and has had many reincarnations in the last 25 years! New mattresses are regularly purchased for the beds, but the used ones sold on Gumtree to save the landfill. I have just ordered new cushions for the sofa in the Pigsty too, a great way to breathe new life into an older sofa.
We are delighted that last year a large number of guests arrived by train and taxi or bike. We are looking into having bikes for hire for guests, as Cambridge and its surroundings are such a joy to pedal around! We have maps and timetables to encourage guests to walk and use public transport as well as recommendations of pubs and restaurants which are nearby. Our 'Walks from the Door' laminated sheets are used daily by guests to explore the locality.
The consumables associated with a B&B can be very wasteful, but with toiletries now refilled by Boxworth Botanicals (handmade locally in Cambridgeshire, using the highest quality essential oils in all natural bases) you can enjoy luxurious but environmentally conscious products during your stay. We use recycled toilet roll, refillable eco cleaning products and washable e-cloths (which are excellent!) so have managed to reduce this unnecessary waste substantially.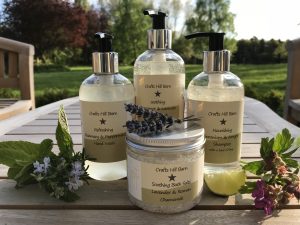 The food waste is kept to an extremely low level because food is pre ordered and top ups requested as needed. Anything left is soon used in baking or gobbled up by the Hens! We refill glass bottles and jars to reduce the amount of plastic and our daily home baked bread is kept fresh in paper bags. We recycle and compost everything we can and recently introduced biodegradable teabags and mini compost bins into our spaces. The search for good compostable coffee pods continues with feedback from guests proving very helpful (we have trialled 4 types now – do let me know if you have found a good source!).
Our food is sourced locally wherever possible, eggs from our own free-range hens and meat from our local farmshop (Longhorn). This year we would like to use more local fruits in our breakfast provisions and have been making seasonal fruit salads and compotes.
Our laundry is done in house and line dried wherever possible, luckily East Anglia has many good drying days! The investment into linen bedding in the Cabin and Wagon has reduced the ironing pile significantly while adding a touch of natural luxury and comfort.
All our firewood is sustainably sourced kiln dried which is a carbon neutral fuel and the low moisture levels reduce the pollutants released on burning, making it more pleasant for you to gather around and for our neighbours. Charcoal is restaurant grade lumpwood charcoal, sourced from licensed felled hardwood and is fully sustainable.
The gardens and land at CHB are gently, organically tamed rather than intensively gardened, we like to let things go wild and have planted many native trees and wildflowers. The wildlife certainly love it here, we have grass snakes, a kingfisher, badgers, foxes and plenty of rabbits! Our bore hole keeps the pond topped up, fills the outdoor bath and waters the plants. Our paddock is grazed by a few orphan lambs each year to keep it under control and this spring we will be sowing more meadow seed to create a pollinator friendly strip between our garden and the pond area. The fresh flower posies provided in our spaces are all grown here in our gardens and this year a new greenhouse and cutting garden will be created in February.